Should you hire a medical copywriter for your website?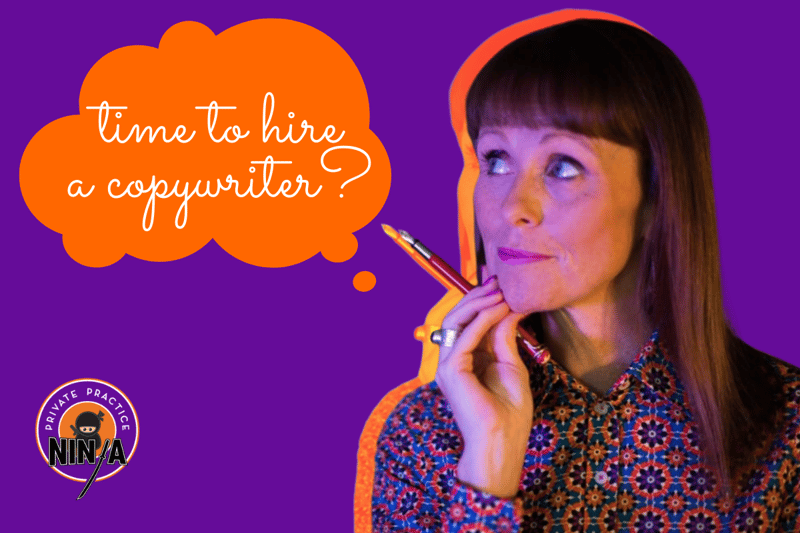 Many clinicians write the copy for their first website themselves, and this makes logical sense:
Writing it yourself means it's free (if you fit it into your "spare" time).
You're an expert in your clinical area, so you have a lot to say about your subject (because you know it so well).
You can "write it how you like it".
You might even enjoy the writing process.
Sometimes, however, DIY copy doesn't perform so well, or the website doesn't even get to go "live" in the first place.
What if you know you can write academically, but you can't quite hit the right tone to promote your Private Practice (and you really don't want to sound "salesy" either)?
What if you've launched your website, but you're getting very few patients finding you online (and even fewer booking an appointment)?
What if you know you should be "doing SEO", but you're not sure how to go about it?
What if you find yourself struggling to get the copy finished and find yourself running out of steam?
What if your website designer is nagging you for copy, but you just don't have the time?
If this is you, you might want to consider hiring a copywriter.
Copy writing for medical websites is a bit of an art. There's a balance between demonstrating your medical expertise through discussion of clinical problems, versus speaking in lay-friendly language. And let's not forget Google, whose algorithm is going to judge your use of keywords and decide whether you show up ahead (or behind) your competitors in the rankings.
As a Clinician, you've likely been schooled in how to write research articles and academic publications, and it can be hard to make the shift to writing copy for your website that goes beyond a revamp of your CV.
If you're looking for a copywriter to help you get that website off the ground, or help with regular content writing for blogs, I can help.
Being a clinician myself, a trained copywriter, as well as an SEO and marketing geek, I can work with you to produce patient-attracting copy, that will market your Practice while you get on with seeing patients, operating, or spending time with your family.
Here's how it works:

We have a short, introductory phone call so I can fully get to grips with your copywriting needs.

We schedule a Zoom call when we'll talk for two hours, and I'll be asking you all kinds of questions about your practice, the kinds of conditions you treat, the patients you love to see, as well as getting an understanding of you as a person.

I then carry out keyword research in your clinical area and take a deep dive into how your competitors' websites are performing.

I write a first draft of your website copy (which is typically around eight web pages), and we set a date for the "edit".

We meet one more time for an hour on Zoom, and "fine tune" the copy, so it's
patient-focused, SEO friendly, and sounds like you.
Interested? Have questions? Let's talk. I'm on 020 7993 6425 or ping me an email at css@privatepracticeninja.co.uk
We had a rather dated website for our physiotherapy business A2Z Elite Health which was very much in need of a complete overhaul. In particular, we needed a website which reflected our unique way of working, showcased our ability and above all would serve as a focal point for all our marketing efforts. Having the "wow" factor was just a mandatory extra from the incredible team at Private Practice Ninja! The copy was clear and succinct, their professionalism and enthusiasm was infectious and produced many a creative lightbulb. And of course, there is their unrivalled understanding of the medical world and how it all works. This was certainly the best decision we could have made and we are thrilled with the result. I would highly recommend Private Practice Ninja for any medical professional looking to have a website commensurate with their ambition and desire to expand their patient base.
Gareth Ziyambi, A2Z Elite Health & Performance
email or call us

0207 993 6425