Why you MUST build an email list for your physio Practice
Press the ▶️ button on the video above to get some great information on why you must build your own email list in your physio Practice.
Here's why you need to build an email list for your physio practice. Recently, I had to take my little Italian greyhound to have surgery. Sniff Sniff.
My husband delivered our tiny 2.6 Kg (fasted) puppy to the vets in the morning, and we collected 'Fondue' that evening.
She was looking very sorry for herself. Despite being a medic (and my own Mother being a vet), I felt more than a little anxious for my fur baby.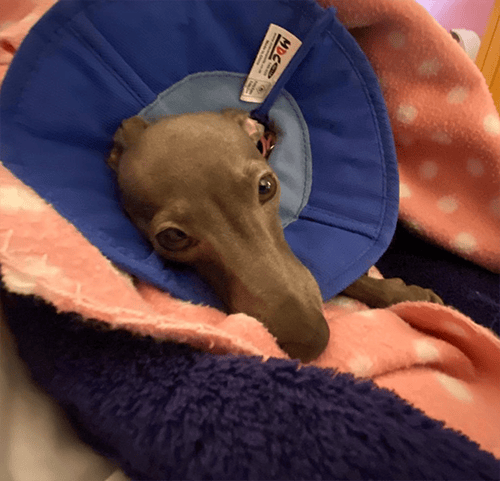 That evening I received a reminder email about the medications she needed to be given (and how exactly how to administer them ), and the next morning, a reassuring and helpful email landed I nmy inbox – 'here's what to expect in the first 24 hours after surgery' and 'here's what to look out for'. This included links to suggestions for how I could keep my second dog out of my puppy's way, whilst Fondue recovered.
In short, I felt very taken care of. Which made me feel like a better fur baby Mummy.
These emails were sent to me because my dog is a patient of theirs, but, I've been so impressed by their handiwork, that I have also signed up to their email list – and to you and me, this means a marketing email list.
Not because I'm expecting to be spammed with bunch of emails trying to flog me worming pills, but because I know they going to send me really useful tips and tricks for parenting my doggy- which they send me on a regular basis.
Why does this matter? Because next time I need to get my doggy mended, or I need to recommend a Vet, they will be front and centre in my mind.
The same is true for humans.
 

Here's why you need to build an email list for your physio Practice
In the musculoskeletal world, many of our patients are 'repeat offenders' – especially if they run marathons, play football, or mix a desk life with CrossFit.
When it comes to getting patients in through the door, it's far easier to get repeat business than to go out and get new patients.
The probability of selling to a new prospect is around 5-20%. The probability of selling to an existing customer is between 60-70%
Now you might be thinking, 'but surely if I've treated the for 'x', they'll come back to see me if they have 'y'? Not necessarily. Do you know why? Well when patients are talking with their friends (or their personal trainer) about a particular (new) problem that they have, they'll get new recommendations, that they'll likely check out.
Then what happens? They go and see that new physio.
But if they are on your email list, and you have sent them a timely reminder about getting that marathon niggle sorted out (before it stops them getting to race day), then they are much more likely to return to your clinic.
And it doesn't stop there.
 

Email marketing can be an amazing way to get people to your door, who have never even been referred to you.
Here's how powerful it can be. Scott (a Ninja client) – who is an amazing physio – is the go-to running physio in London. He has grown his email list from zero to over 3,000 subscribers.
When he sends out an email about stress fractures, how to train better, and what to do if you have a hamstring problem, even if only 1% of people were to take action and get in touch – that's still 30 potential new clients. If a typical client attended for an initial consultation and five follow ups, that could mean a good £500 per patient. Times that by 30, and, well, you get the maths.
Now you might be thinking, 'but Cath, I get many of my patients from Facebook'.
But how many times have you seen Facebook, or any other social media platform, change the rule book?
And do you really trust Mark Zuckerberg to have your physio clinic's best interests at heart?
And what if you got black-listed? (Yep, it happens).
As the saying goes, don't build your home on rented land.
 

The great thing about an email list is, it's YOURS.
You can grow trust with your followers through helpful and informative vlogs and blogs, and when you use email marketing software to segment your lists, you can send footie information to footie players, and pilates tips and tricks to yummy mummies.
Whenever you have a new service, or need to remind your email list that 'it's two weeks until the London Marathon, so get that ITband pain sorted', you'll have a captive audience, ready to book in.
You may be wondering what's my favourite email service provider?  Having tried them all, it's

ConvertKit
Need help with setting up an email list, or help with getting people to sign up?
I'm at css@privatepracticeninja.co.uk
PS – want to learn more about how to retain this valuable patients, so you don't lose them to other physio practices? Read our blog by clicking here
Now it's time for you to grow your Private Practice.